It connects from the USB terminal of a personal computer, and is a high-quality sound sound easily.
USB DA converter YDA-02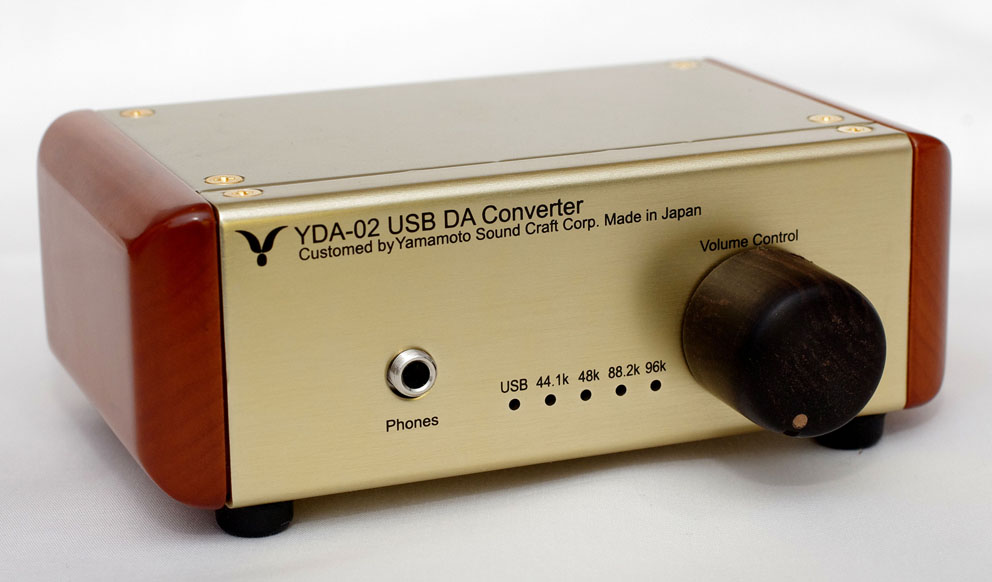 *The music of a personal computer is reproduced to high-quality sound.
High-quality sound headphone amplifier is built in.
This machine is USB which makes USB connection easily at a personal computer, and can enjoy high-quality sound music. It is a DA converter.

The back of a main part can be equipped with a RCA analog output, it can connect with the analog input terminal of amplifier, and the music of a personal computer can be played in the audio of a stock.
Since net distribution HD sauce, such as 24 bits/96 kHz, is supported, the newest high-quality sound sauce is also renewable.
Moreover, since high-quality sound headphone amplifier is also built in, you can use it also as headphone amplifier of a simple substance.
Analog conversion of the audio data inputted from the personal computer is carried out, and it outputs to a headphone jack or a lineout.
The volume of the output of a lineout and the output of headphone can be controlled in front volume.
Even if it combines with audio system Sound Box Y-1 of our company, high-quality sound music playback is got.
Also sumptuously it was begun to delete ebony material to a volume knob, and is used for it.
HD audio It corresponds to 24 bits/96 kHz, and 24 bits/88.2 kHz.

Each audio format of 16 bits/24 bit, 44.1kHz/48 kHz/88.2 kHz/96 kHz is supported.
The sound source of a high sampling rate (24 bits/96 kHz, 24 bits/88.2kHz) which came to hand from Linn Record, philharmonic Berlin, the Boston symphony, etc. can also pull out sound quality as it is.

High-quality sound by original firmware is realized.

TI, Inc. TAS1020B is adopted as a USB audio controller.
Original firmware was adopted in order to reproduce the music sauce of a personal computer faithfully.
High sampling rate correspondence which contains 24 bits/88.2 kHz by this with the audio stream generation based on the clock only for an audio in a controller is realized.
An AC/DC adaptor is in the power supply supply from the USB port which can be changed unnecessary also from external power supply use to operation and operation only with the power supply from a USB port at that of operation.
Moreover, DC jack for an external power supply input is carried.
The power supply (phi4mm) which can supply voltage 5V and 500mA of current besides the AC/DC adaptor of an option sales article or a commercial battery can be connected, and customize with a self power supply can be enjoyed.

The design which considered noise removal

In order to eliminate the influence of the noise which invades by the USB connection with a personal computer, or cable connection with external apparatus, the common mode filter and the prevention circuit from an electrostatic discharge damage were adopted.
The noise from a power supply part is stopped by mounting the filter which became independent for every circuit block.
Furthermore, the internal digital noise has taken the measures against EMI so that it may not emanate outside.

If it is connected with a USB port, driver software will be installed automatically.

If a USB port is equipped, OS standard driver software will be installed automatically.
In order to operate as a USB audio, the installation work of troublesome exclusive driver software is unnecessary.
If a fundamental personal computer is set up, it can be used immediately.

The variegated software for music playback can be used.

iTunes, MediaPlayer, and foobar2000 are begun, and reproduction software will not be chosen if it is application renewable from a sound with a built-in personal computer.
Of course, network streaming reproduction of NAXOS etc. can also be enjoyed by high-quality sound.
* In order to play music of a high sampling rate, such as 24 bits/96 kHz, 24 bits/88.2 kHz, the application side, such as MediaPlayer and iTunes (QuickTime), needs to be set up.
Compact size
An outside dimension is the compact size of abbreviation 116(W) x68(D) x45(H) mm (without projection part).

Specifications

Part number USB Series B: USB DA converter YDA-02 input terminal : (16 bits/24 bits)
/corresponding to 88.2 kHz [ 44.1kHz/48 kHz/]/96kHz Output terminal: Headphone output (phi3.5mm stereo mini),
Lineout (RCA jack) S/N ratio : A headphone output of 95dB Lineout 100dB / Rated output : 62.5mW of headphone output x2ch (16ohms), and lineout 2.0Vrmsx2ch
All the harmonics distortion : Headphone output -60dB/25mW Lineout 88dB / Dynamic range: A headphone output of 95dB Lineout 100dB
Cross talk characteristic : A headphone output of 80dB Lineout 100dB / Headphone rated output : 62.5mWx2ch@16ohm
Power supply voltage :DC+5.0V (it supplies from either USB port and AC/DC adaptor)/ Consumption current : A maximum of 320mA
An outside dimension/weight : Abbreviation 116(W) x68(D) x45 (H) mm / about 262g (projection part 含まず) / Correspondence personal computer: Audio corresponding to Windows PC or Mac which carries a USB port : Audiovisual apparatus which carries an analog (RCA) input,
Headphone with a stereo mini plug
Correspondence OS: Windows 7, Windows Vista, Windows XP, and MacOS X 10.1 or subsequent ones / Windows is 32-bit [/64 bits ] both correspondences.
Appended goods : USB cable (about 100cm) A manual and step-up guide, Guarantee
Please ask a store a price.