YC-03S/YC-03M Wooden body MC cartridge
YC-03S: Stereo specification, YC-03M: Monophonic specification both 128,000yen each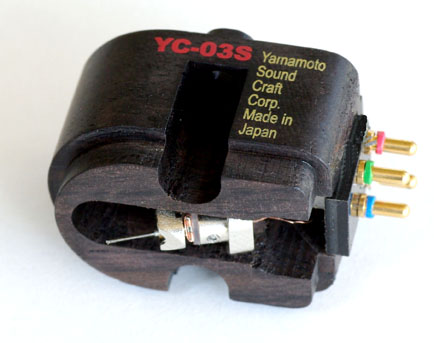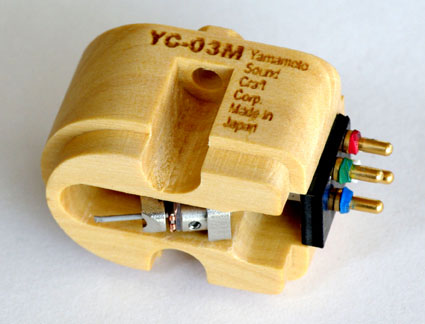 Although both both have adopted the same magnetic circuit, the oscillating system and body are pulling out each feature as different specification. YC-03S for stereos had high strength on the body, moreover, was African-blackwood-material-used for it as a beautiful material of sound, and aimed at the sound with much amount of information also corresponding to the newest recording sauce. On the other hand, using precise and beautiful boxwood material, YC-03M is light on a body and aims at an early sound of the reaction on it. Especially both both materials are used for various musical instruments etc. for the material with the characteristic which surpassed also in wood. African blackwood material was used for oboe or a clarinet, and boxwood material was used for the plectrum of a samisen etc. At our company, precision processing of them is carried out with NC processing machine in its company, and one one-piece body for MC cartridges is cut and used. Moreover, the finish valued the charm of wood, and its textures, and has applied and finished the wood protective coating material of an eco-paint system which does not almost have influence in a human body. The surface character expresses YC-03S as printing by a silk screen, and the sculpture according YC-03M to a laser beam machine.

The power generation system of YC-03 S/YC-03M has the performance stabilized most is obtained. However, the big value of 0.25mV has been acquired by the internal impedance 1.2 ohm by wounding a magnet wire with thick thickness around the power generation coil most efficiently to an iron core. It will be said that the energy as an absolute value whose value of the I hear that that the impedance is low has the large electric power generated in the case of the same output voltage, and is big is obtained. Although YC-03 M/S is the impedance of 1.2 ohms, it can be satisfactorily used for those Step up by the Step up transformer of 3-ohm general input impedance. Moreover, it has succeeded in those magnetic circuits adopting a Neozium magnet, obtaining magnetic flux density higher than before by the yoke plate pole piece of malleable iron, and obtaining big output voltage. It improved so that the penetration hole of a bolt might be made in a center at a Neozium magnet and it might finish setting up a magnetic circuit with a screw. By this, strength goes up compared with an assembly of the magnetic circuit by the conventional adhesives, an internal loss decreases, and a forcible reproduction sound can be obtained now. The cantilever of YC-03S used the pure material of boron, and aims at the amount of information maximum by adoption of a line contact needle. Moreover, a forcible sound of YC-03M to which inside compass was substantial with composition called a round needle in the cantilever of the aluminum pipe is the feature.

Another feature of YC-03 S/YC-03M is having adopted the piano wire of big value as the tension wire inside a cartridge. A tension wire is a component for support located at the center of an oscillating system which combines the cantilever of MC cartridge, a power generation coil, and a magnetic circuit. This tension wire has adopted the thing with a thickness of 0.14mm at our company to the general cartridge having adopted piano wire 0.06 to 0.08mm in diameter. The cross-section area increases to what also about 3 times. Usually, this tension wire is a section which responds to vibration of the needle point, and the more it makes it thin, it can become high compliance, resonance frequency can go up, and, the more it can extend a high region limit. Therefore, in order to obtain the reproduction sound which was full of a feeling of energy with the strong firm waist by our company since it became a weak sound of a limp feeling of energy, although a thin wire is generally adopted, the sound which dares to adopt a thicker tension wire and has a feeling of actual existence was aimed at.

Moreover, mold resin with a usually soft terminal part of a cartridge is used. However, the tag block of YC-03 S/YC-03M cut and made hard bakelite at its company. We have adopted the pin of next door bronze as the section. The strength of the whole including a connector goes up and it is useful for the improvement in sound quality with this.

In addition, YC-03M of monophonic specification coiled two winding in parallel, and has taken it out by two circuits at four pins so that standard use can be carried out with the reproduction equipment of stereo specification. Monophonic reproduction with two speakers can be performed in a stereo unit by this.
YC-03S / YC-03M Specifications

Form: Low impedance MC cartridge

Channel composition: YC-03S: 45 and 45-degree system stereo / YC-03M: Parallel 2 winding 4 terminal monaural

Output voltage: 0.25mV (1kHz, 5cm/sec.)

Channel sepalation: YC-03S: 25dB or more (1kHz)

Channel balance: 1dB or less (1kHz)

Cantilever: YC-03S: 0.26mm dia. solid boron / YC-03M: 0.50mm dia. aluminum pipe

Stylus chip: YC-03S: Line contact needle / YC-03M: Round needle

Impedance: 1.2ohms

Proper needle pressure: 1.2-2.0g

Frequency characteristic: 20-20,000Hz

Body: YC-03S: African blackwood material (eco-paint finish)

YC-03M: Boxwood material (eco-paint finish)

Magnet: Neozium magnet

Outside dimension: 18 (W) 30 (L) 15 (H)

Weight: YC-03S: 8.0g YC-03M: 6.7g

Accessories: four-sets of M2.6 brass and gold plating attachment screws

Price: YC-03 S/YC-03M are boss 128,000yen


Needle exchange price: 76,000yen (main part exchange)
---
その他 : 弊社の加工技術を駆使した木材、樹脂等の精密加工も承っています。(詳細はお問い合わせください)
Besides: the processing technology of our company even the precise processing of the lumber, resin etc. that utilized it are informed. (Inquire the details)
---
山本音響工芸 ホームページトップ
Yamamoto Sound Craft Homepage TOP
(日本語/English)


山本音響工芸株式会社 675-1323兵庫県小野市榊町726 TEL0794-62-5655 FAX0794-63-6405
Yamamoto Sound Craft Corp. 726 Sakaki-tyo Ono-city Hyogo 675-1323 Japan / Tel 81-794-62-5655 Fax 81-794-63-6405
お問い合わせ(Inquiry): shige-y@mh1.117.ne.jp
担当(Charge):山本(Yamamoto)
---
Copyright ? 2002-2009 Yamamoto Sound Craft All Rights Reserved.
---