V groove supporting base VB-25 / VB-18 new release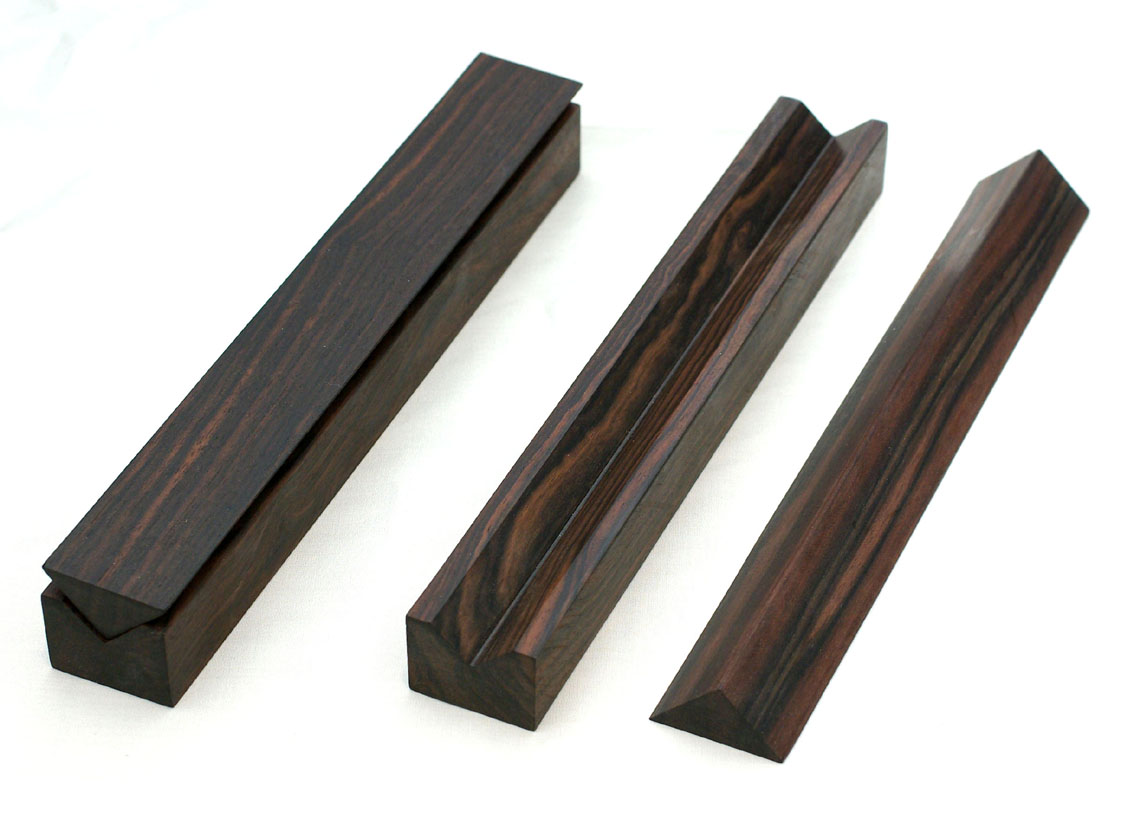 VB-25 Two-piece set 15,000 yen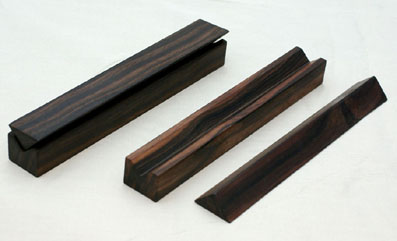 VB-18 Two-piece set 7,500 yen
VB-25 and VB-18 are the setting bases of a completely new structure which are not in the product of conventional our company.

The use can acquire the big vibration control effect with various products, such as amplifier, CD player, and a speaker.

Both VB-25 and VB-18 are the products made from an ebony, and consists of parts of two upper and lower sides.

The V character type groove is processed to lower part with the square pole type .

The upper part is used downward with a triangular prism type, and it is used so that a triangular vertex may touch a part for the groove portion of a lower part.

When an actual speaker etc. are placed, both the field which touches a speaker, and the field adjacent to a floor become even.

And the contact portion becomes a line and becomes difficult to vibrate in response to the weight of a speaker.

As compared with a common pinpoint base, it excels in stability, and also becomes easy to install by controlling vibration moderately.

The effect enriches reproduction sound and improves in the direction which gains in forcibleness.

The ebony material currently used has specific gravity as heavy as about 1.1 by the kind called the striped ebony from Southeast Asia, and since it is hard, the effect of the feature which controls vibration is high.

Since it is used for necks, such as an actually high-class guitar, the acoustic feature is also with a guarantee.

since I construct, come out of and sell these two products, 1 set is used for amplifier or CD player, and I use 2 sets for a speaker.

When using it for amplifier or CD player, it is not used under the leg attached to a main part, but it installs between legs or in a portion with high intensity of both the sides of a sole plate.

Although length is 25cm, since stability is excellent, VB-25 can be used for the amplifier of large-sized and a heavy weight class with a depth of about 40cm, etc.

The set direction of a base can be used even in a horizontal direction, although the direction of order is a standard.

Please actually try and use it in a direction with a sufficient result.

Since the load added to a support portion compared with a pinpoint base is reduced, this product can take large withstand load, and in VB-25, 60kg and VB-18 have become 40kg.

VB-25/VB-18 Specifications

- Conformity product : a speaker system, amplifier, a digital recorder, CD player, an analog player, etc.

- Use material : the striped ebony from Southeast Asia

- Outside dimension : VB-25 : 35(W) x33(H) x250 (D) VB-18 : 25(W)x27(H)x180(D)

- Withstand load : VB-25:60kg, VB-18:40kg

- Weight : VB-25 : 320g (one piece), VB-18 : 120g (one piece)

- Finish and it is :clear eco-paint paint finish.

- Price : VB-25 : 15,000yen / two pieces are constructed and it is -1 set .

VB-18 : 7,500yen / two pieces are constructed and it is -1 set .

We constructed, came out of and sell these two products.

In use to a speaker, 2 sets is needed.

Please understand the situation.
---
その他 : 弊社の加工技術を駆使した木材、樹脂等の精密加工も承っています。(詳細はお問い合わせください)
Besides: the processing technology of our company even the precise processing of the lumber, resin etc. that utilized it are informed. (Inquire the details)
---
山本音響工芸 ホームページトップ
Yamamoto Sound Craft Homepage TOP
(日本語/English)


山本音響工芸株式会社 675-1323兵庫県小野市榊町726 TEL0794-62-5655 FAX0794-63-6405
Yamamoto Sound Craft Corp. 726 Sakaki-tyo Ono-city Hyogo 675-1323 Japan / Tel 81-794-62-5655 Fax 81-794-63-6405
お問い合わせ(Inquiry): shige-y@mh1.117.ne.jp
担当(Charge):山本(Yamamoto)
---
Copyright ? 2002-2009 Yamamoto Sound Craft All Rights Reserved.
---