New Product UX-UX PTFE socket start sales
PTFE cutting body and product made from phosphorus bronze Nonmagnetic Gold plating pin adoption 8000yen each.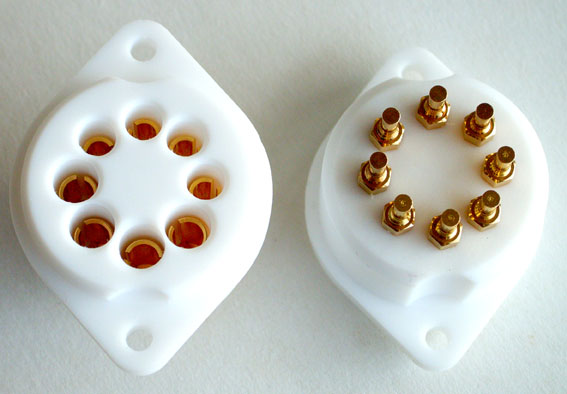 At our company, the unique socket which can use two kinds of output tubes with one socket, such as UX-UF and UX-UV, from before has been put on the market.

In addition to it, I put the socket of UX-UX on the market by addition this time.

This socket is a socket designed use the output tube which has arranged 2 sets of UX-4P type socket pins shifted 45 degrees in the two directions to one socket, and had two kinds of UX4P type pins in it.

Since each pin has been independent, it can also substitute and use the vacuum tube of completely different specification.

It is also possible to be able to use 2A3, specifically substituting for 300B within the same amplifier, or to enable it to use 2A3 and 6A3 (vacuum tube of 6.3V use of 2A3).

Moreover, you become possible to exchanging and using 300B and 50.

Most vacuum tubes in being marketed of UX-4P type exist.

It is very convenient that two kinds of those vacuum tubes in which character completely differs can be made to serve a double purpose with one socket.

Heater voltage, bias voltage, etc. can be set as each.

The hole diameter of a chassis is as common as the socket of other our companies, and is 30mm.

Please manufacture unique amplifier by your sensitivity.
---
その他 : 弊社の加工技術を駆使した木材、樹脂等の精密加工も承っています。(詳細はお問い合わせください)
Besides: the processing technology of our company even the precise processing of the lumber, resin etc. that utilized it are informed. (Inquire the details)
---
山本音響工芸 ホームページトップ
Yamamoto Sound Craft Homepage TOP
(日本語/English)


山本音響工芸株式会社 675-1323兵庫県小野市榊町726 TEL0794-62-5655 FAX0794-63-6405
Yamamoto Sound Craft Corp. 726 Sakaki-tyo Ono-city Hyogo 675-1323 Japan / Tel 81-794-62-5655 Fax 81-794-63-6405
お問い合わせ(Inquiry): shige-y@mh1.117.ne.jp
担当(Charge):山本(Yamamoto)
---
Copyright ? 2002-2009 Yamamoto Sound Craft All Rights Reserved.
---