Spike receptacle base made from African Black Wood PB-23
11,000yen (4pcs. set)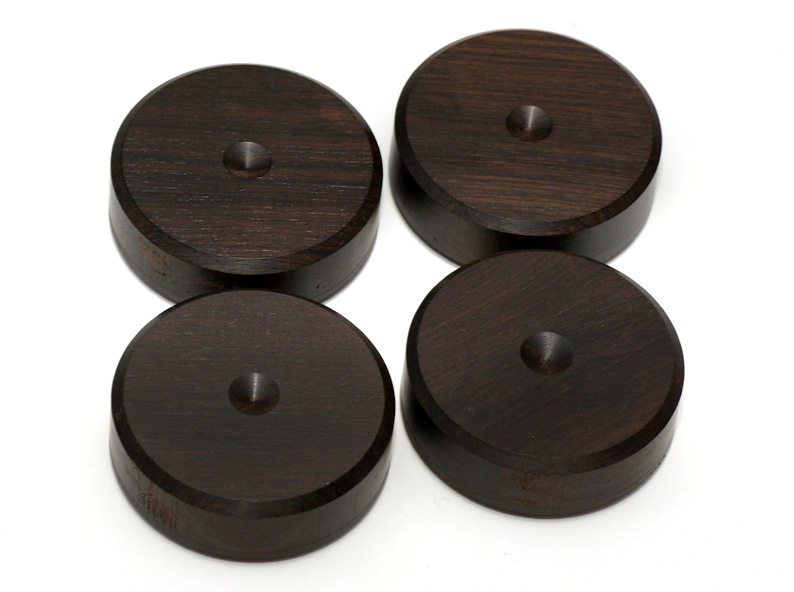 Spike receptacle base PB-23 is the amplifier and the setting base for speakers which are used combining the spiked type base of independent or others. The material is using the 1 African ebony material (formal scientific name African Black Wood) of the hardest material also with high intensity in all wood. Although this material is a rare material now, it is the material actually used for the oboe and clarinet of a musical instrument, and there is established reputation in the merit of that sound. Although I sell PB-9 and PB-20 as a pin type base, it is also possible to use it combining them at our company. When it combines with PB-9 and PB-20, it becomes easy to use an up-and-down side at a plane. A base for there to be many products with a spike and for the latest audio products receive the spike is needed. The diameter of PB-23 is 59mm, Since height is as large as 20mm, the speaker and amplifier of a large-sized heavy weight class are suited. Usually, although metal is used for these pinpoint bases in many cases, a resonance sound peculiar to metal appears in metal spikes in many cases, and since PB-23 of our company is wood, it can prevent a peculiar resonance sound, and it can obtain the reproduction sound which cleared up comfortably to the ear. If a metaled plate receives a metal spike pin especially, resonance sound will ride easily, but by combining PB-23, a metaled spike eats away moderately, you make it stabilized and, moreover, metallic resonance can be prevented. If it combines with PB-9 of our company, and PB-20, the sound which was stabilized more and was massively carried out by the increase in the mass will be obtained.


PB-23 specification

Withstand load: 100kg (at the time of four-piece use)

Outside dimension: 59mm in diameter Height: 20mm

The diameter of a central hollow: 11mm

The depth of a central hollow: 3.5mm

The angle of a central hollow: About 110 degrees

Quality of the material: African ebony (specific gravity 1.4 )

Price: 11,000 yen (4 pcs. set)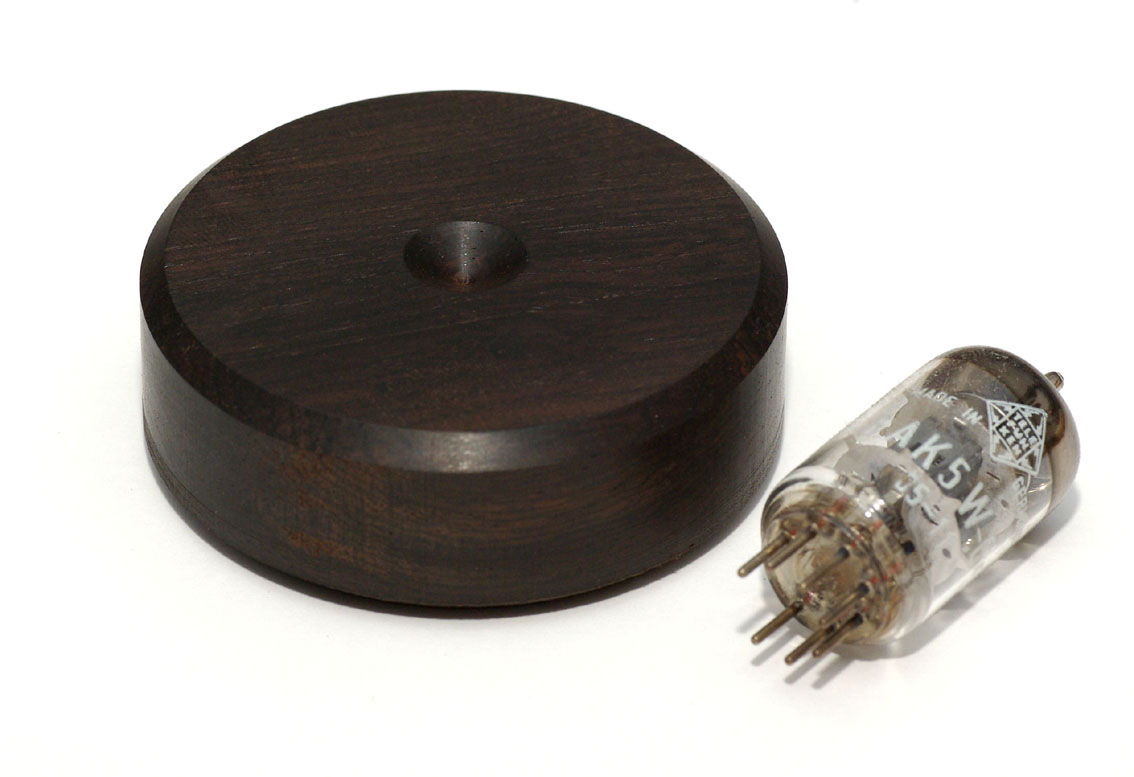 A vacuum tube is for comparison of size.
---
その他 : 弊社の加工技術を駆使した木材、樹脂等の精密加工も承っています。(詳細はお問い合わせください)
Besides: the processing technology of our company even the precise processing of the lumber, resin etc. that utilized it are informed. (Inquire the details)
---
山本音響工芸 ホームページトップ
Yamamoto Sound Craft Homepage TOP
(日本語/English)


山本音響工芸株式会社 675-1323兵庫県小野市榊町726 TEL0794-62-5655 FAX0794-63-6405
Yamamoto Sound Craft Corp. 726 Sakaki-tyo Ono-city Hyogo 675-1323 Japan / Tel 81-794-62-5655 Fax 81-794-63-6405
お問い合わせ(Inquiry): shige-y@mh1.117.ne.jp
担当(Charge):山本(Yamamoto)
---
Copyright ? 2002-2009 Yamamoto Sound Craft All Rights Reserved.
---