MT-9P-30mm Socket Price: 9,000 yen (1 piece)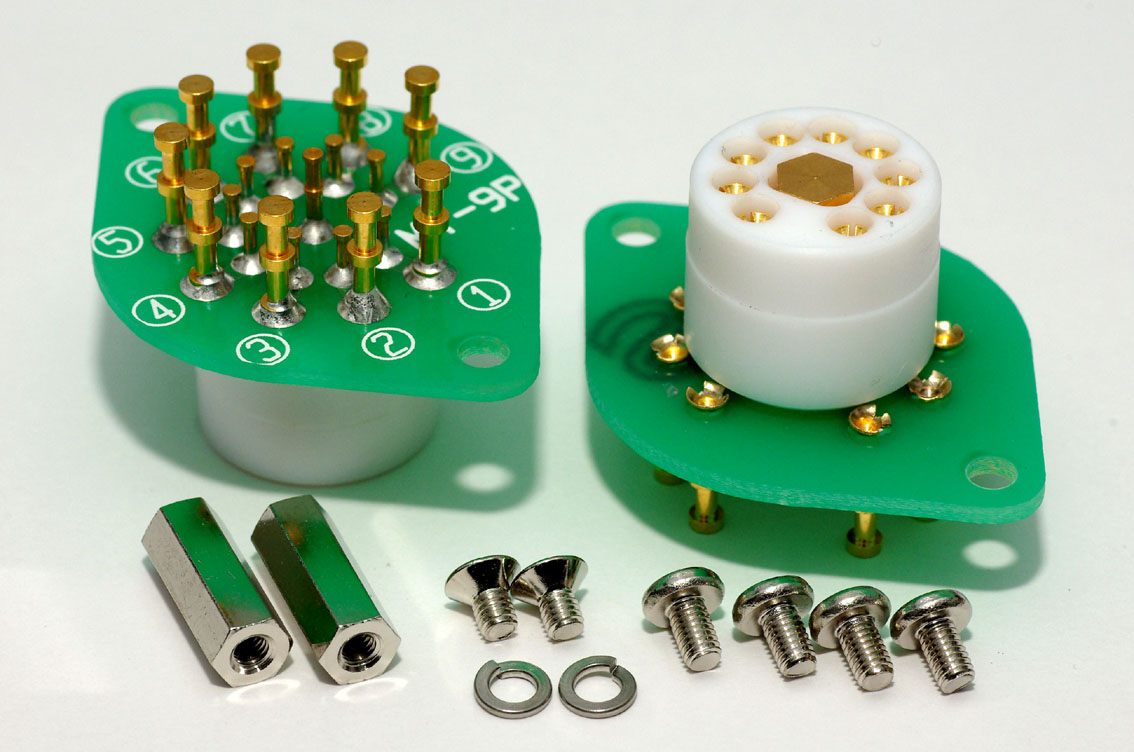 MT-9P-30mm is a socket which can use miniature tube MT-9P vacuum tube in the attachment hole of the same size as a socket common GT tube and UX type. The printed circuit board of glass epoxy and the firm terminal pin are used for conversion. Although MT-9P usual socket was manufactured of Teflon from before at our company, since the distance between pins was narrow, it was hard to carry out wiring for a while. Moreover, since the socket of MT-9P type differs from the size of common GT tube etc., there is no compatibility in a chassis size, and many those who wish the socket which those both can use with the same chassis were in it. In order to answer to those requests, at our company, MT-9P socket which can be used in the same chassis hole as GT tube etc. was developed. I have arranged so that the pin of the back of a socket may also extend an interval and it may be easy to wire. For example, although many GT tubes are used for the driver stage of power amplifier, there is a merit that the vacuum tube of MT-9P type can be used now there. Moreover, since a 15mm spacer with a screw is attached, it is possible to attach a vacuum tube on a chassis at a flat. By attaching to the diameter of MT-9P vacuum tube being 19mm, since a hole is 30mm, the crevice between the hole can be used for heat dissipation. You can use it also in the output tube of MT-9P type of EL84 grade conveniently. When a shield is required as an object for preamplifiers, you can also use together the grading ring for MT-9P of our company. There are many which are unattractive in a common shielding case appearance. The design as which the shielding case (grading ring) of our company showed it positively since appearance was beautiful is also attained. The hole diameter in the case of carrying out grading ring use recommends 24mm. Please utilize for manufacture of a preamplifier unique by all means etc.


MT-9P-30mm socket specification

Outside dimension: 46mmX34mm Height: 26.5mm

chassis hole size :30mm (when the shield ring attached is 24mm)

Attachment screw pitch 38.2mm hole diameter of 3.6mm (It's same as our company US-8P and UX-4P socket.)

(The attachment pitch of a Shield ring is 28.6mm)

The material of a socket:PTFE

The material of a subplate part: Glass epoxy

The material of a socket pin: Phosphor bronze and nonmagnetic under coated gold plating

The material of a subplate part pin: Brass and nonmagnetic under coated gold plating

An attached parts:15mm of screw processing spacers two pieces, six screws, two spring washer

Price: 9,000 yen

Shield ring is option 6,000 yen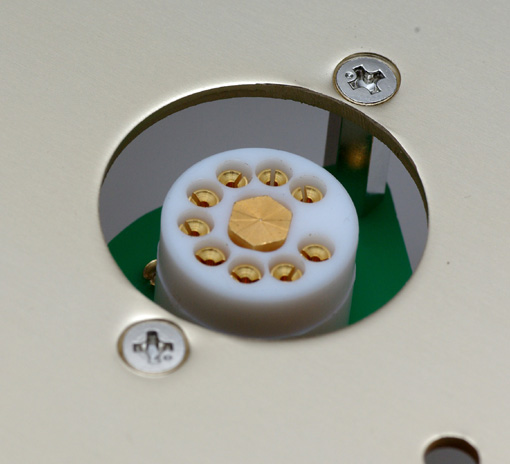 when the MT-9P-30mm attached to the shassy

(mounting hole is 30mm)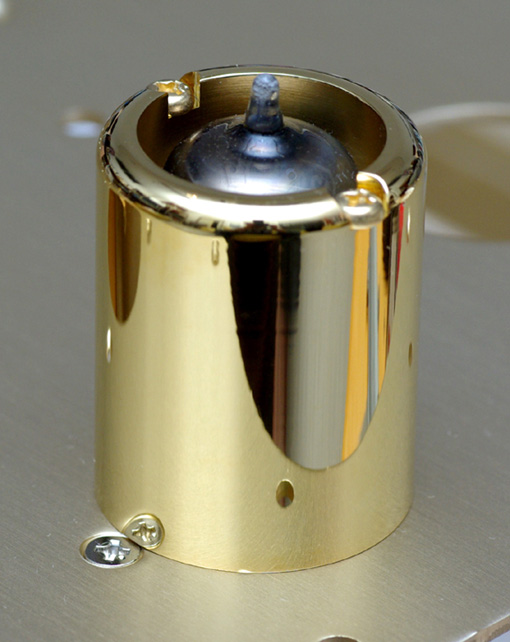 when the MT-9P-30mm and shield ring attached to the shassy (tube is 12AX7)
---
その他 : 弊社の加工技術を駆使した木材、樹脂等の精密加工も承っています。(詳細はお問い合わせください)
Besides: the processing technology of our company even the precise processing of the lumber, resin etc. that utilized it are informed. (Inquire the details)
---
山本音響工芸 ホームページトップ
Yamamoto Sound Craft Homepage TOP
(日本語/English)


山本音響工芸株式会社 675-1323兵庫県小野市榊町726 TEL0794-62-5655 FAX0794-63-6405
Yamamoto Sound Craft Corp. 726 Sakaki-tyo Ono-city Hyogo 675-1323 Japan / Tel 81-794-62-5655 Fax 81-794-63-6405
お問い合わせ(Inquiry): shige-y@mh1.117.ne.jp
担当(Charge):山本(Yamamoto)
---
Copyright ? 2002-2009 Yamamoto Sound Craft All Rights Reserved.
---