Magnet floating base MGB-2
Four pieces set 33,000yen Three pieces set 25,000yen One piece 8,500yen (simple packaging)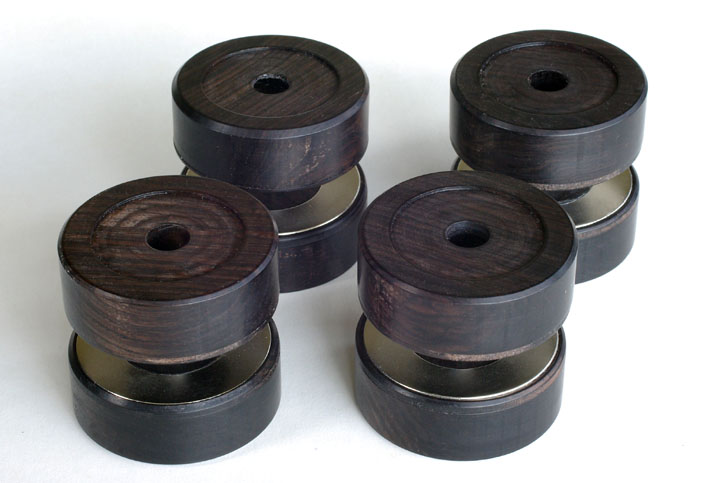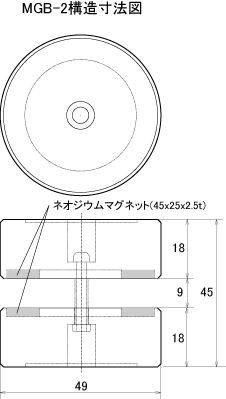 New product MGB-2 is the epoch-making setting base which is not in the former and which intercepted vibration using the repulsion of a magnet.

MGB-2 already miniaturized MGB-1 large-sized on sale, and it planned it so that it could be used for comparatively small and lightweight apparatus.

Although MGB-1 could use the apparatus from 8kg to 40kg at the time of four-piece use, it was not able to be used for apparatus lighter than it.

Then, this machine is designed mainly for a product of 10kg or less.

Specifically, a preamplifier, CD player and phono equalizer amplifier, a DA converter, etc. are applicable.

The highest neodium magnet of holding power was adopted as the magnet, and high performance has been obtained though it is small.

There are the N pole and the S pole in a magnet, between different poles, it draws each other near and there is character to oppose, between the poles.

MGB-2 is designed carry out floating of the apparatus which put on the top using the repulsion.

If it is made to come floating with a magnet, the apparatus which put on the top will hardly receive the vibration from a floor, but its influence of vibration from a speaker will decrease extremely.

Therefore, sound becomes clear and degradation of the sound resulting from vibration can be prevented.

The main part part of MGB-2 is using African ebony material with the high vibration control effect and high evaluation by the beauty of sound.

This material is very as heavy as specific gravity 1.4, and since it is used also for oboe or a clarinet, it is acknowledged that sound is also good.

In addition, for finish of the portion of wood, it is finishing up using the eco-paint which does not have almost influence in a human body.

Usually, when there is nothing that nothing supports when rebounding of a magnet is used, an upper magnet will fly away by rebounding.

At our company, in order to prevent it, the up-and-down magnet was fixed to African ebony material, and it is combined with the thinner bolt.

It is fixed only to the base of one side and a bolt lets a PTFE tube pass between another bases, and it is set so that another base can be moved lightly.

Since the surface of PTFE is very smooth and it is easy to slide on it before as used as a slide agent of a cassette tape, an up-and-down base hardly receives frictional resistance, but it can be moved.

In the case of MGB-1, from about 0.9kg per base to 3kg can use the weight of the apparatus which can be set on a base.

In three-piece use, the product from 2.7kg to 9kg can be supported.

Four cases can respond to the product from 3.6kg to 12kg.

However, on the character of this base, if big weight is applied, the height of a base will become low, and since it becomes high when it is small weight, when more than one are used, please equalize weight concerning each base.

In the case of a tube amp etc., since the weight of a transformer portion is heavy, please adjust an installation position in consideration of it.

When use apparatus is a not less than 12kg product, if five or more numbers are used, the weight concerning each base is distributed and it can be used also for a quite heavy product.

The setting position of MGB-2 should choose the place where the floor became brave as firmly as possible.

In a floor, in the case of a carpet, a tatami, etc., a base may become unstable.

In such a case, if you use together the product plate made from cherry tree laminate lumber-like base of B-45 of our company, and B-60 grade, etc., there are increase of stability and an effect.

The product which can use MGB-2 is used for the product of an audio instrument at large most , and can check the effect.

A big effect is especially expectable in an analog player, CD player preamplifier, and a DA converter.

However, please be careful of combination with the product which is easy to be influenced by magnetic when using it on the relation for which this product is using the magnet.

For example, please keep in mind that it can consider the influence by magnetism in the Step up transformer for MC cartridges, and the picture of a cassette tape cathode-ray tube conventional television.
MGB-2 Standard

Outside dimension: 49mm in diameter, and height:45mm -37mm

Quality of the material: An African ebony, a neodium magnet

Withstand load: It is at the 3.6kg - 12kg /four pieces, and 2.7kg - 9kg /three pieces use. Use time at the time of 0.9kg - 3kg per piece,

Weight: 170g (one piece)

Price: Construct four pieces. 33,000yen, Three pieces are constructed.25,000yen

One piece is sold.8,500yen (simple packaging)

Sister article MGB-1

Price: Construct four pieces. 47,500yen, Three pieces are constructed. 37,000yen

One piece is sold. 12,500yen (simple packaging)00 three pieces are constructed. yen29,000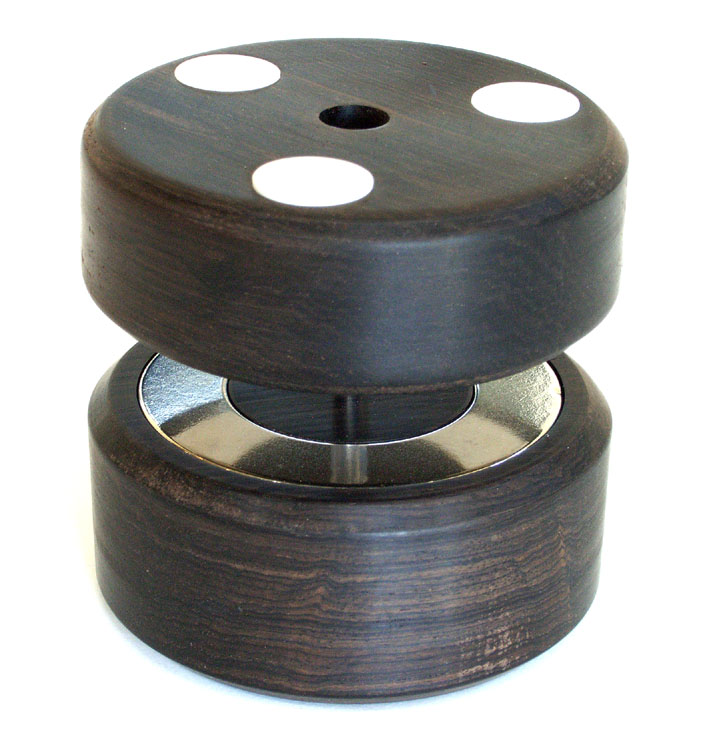 ---
その他 : 弊社の加工技術を駆使した木材、樹脂等の精密加工も承っています。(詳細はお問い合わせください)
Besides: the processing technology of our company even the precise processing of the lumber, resin etc. that utilized it are informed. (Inquire the details)
---
山本音響工芸 ホームページトップ
Yamamoto Sound Craft Homepage TOP
(日本語/English)


山本音響工芸株式会社 675-1323兵庫県小野市榊町726 TEL0794-62-5655 FAX0794-63-6405
Yamamoto Sound Craft Corp. 726 Sakaki-tyo Ono-city Hyogo 675-1323 Japan / Tel 81-794-62-5655 Fax 81-794-63-6405
お問い合わせ(Inquiry): shige-y@mh1.117.ne.jp
担当(Charge):山本(Yamamoto)
---
Copyright ? 2002-2009 Yamamoto Sound Craft All Rights Reserved.
---