Wood Head Shell HS-7 New Release
Head shell made from camellia material 9,200yen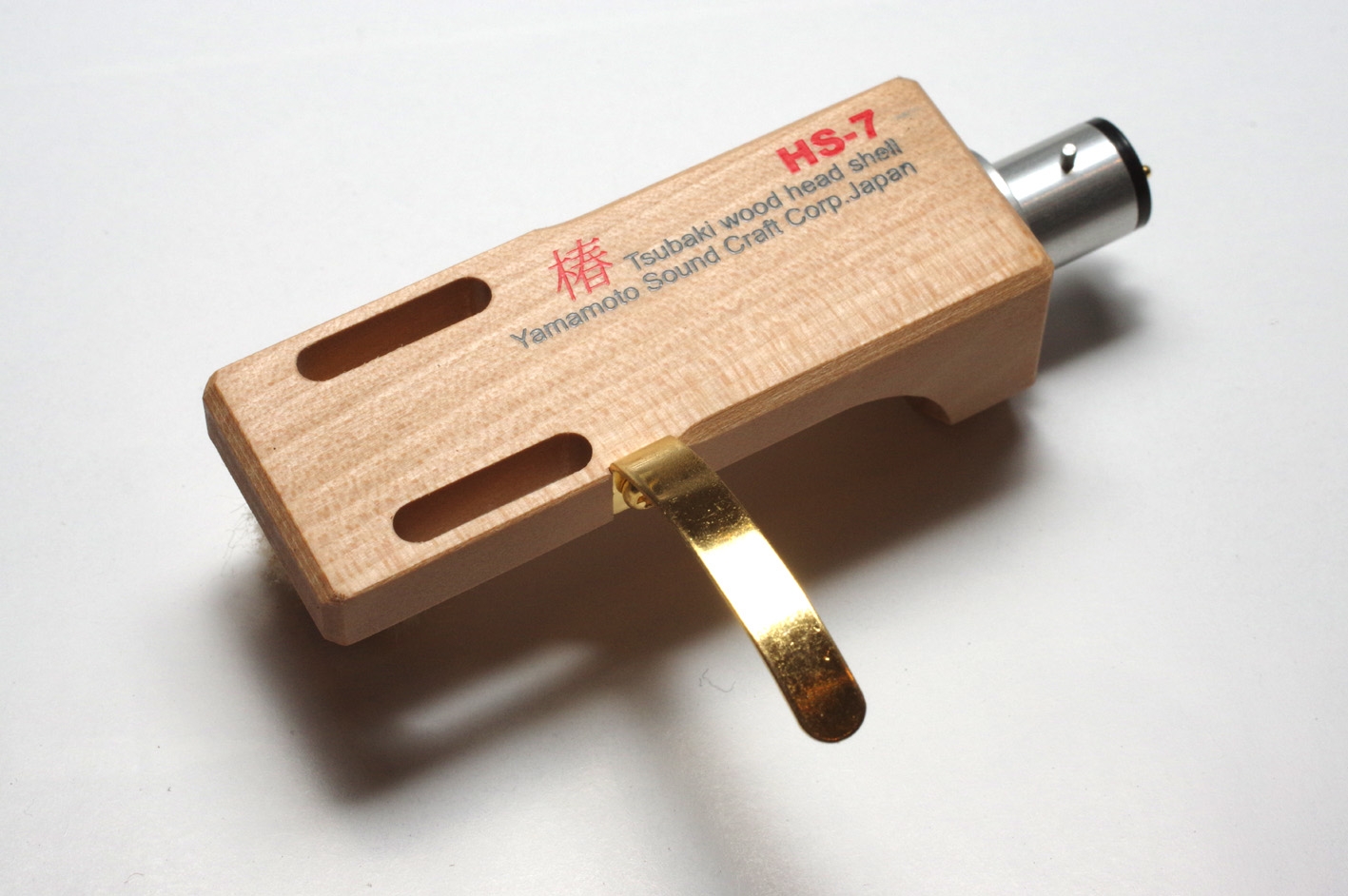 HS-7 is the wooden head shell which uses the camellia material from domestic of the quality of the material which was rare and was excellent.
The camellia attracts attention the fruit is used for cosmetics etc. as camellia oil.
The camellia material as wood is also a material which it was very fine, it was homogeneous and was excellent.
However, since there is little quantity which appears on the market as wood, acquisition is difficult.
At our company, we decided to produce commercially, since the good result was obtained when he wanted to use it as a material of head shell very much and it tried, since this material was obtained by chance.
Camellia material has specific gravity quite lighter than 0.7 and an ebony, and, and yet, grain has the very fine feature.
When size and a design were made the same as our products of other and having been manufactured, prudence became 8.1g (an attachment screw is not included) and the lightest-weight product also in the head shell of our company.
the inside of the head shell of probably marketing the maximum lightweight head shell is seemed.
Usually, if head shell is made light, intensity will fall in many cases, but the wooden head shell of our company gives meat to a connector attachment part, and by attaching a big R, it is devising it so that strength may not fall.
Generally, the dynamic sensitivity becomes high, so that the weight in which the tone arm of the record player included a cartridge and head shell is light.
I recommend you to use as a lighter oscillating system taking advantage of the lightness in the case of HS-7.
By lowering the mass of a head shell part, there is a possibility that a light sound which is different from former from the same cartridge can enjoy itself.
After carrying out a surface treatment to finish of the appearance of HS-7 in clear eco-paints, I have finished in the form where it is near with the cloth of a material.
The appearance of the light brown has a peculiar charm.
The finger hook has plated with gold by the product made from brass.
The finger hook which poses a problem by metal shell since the wood itself does not make a peculiar resonance sound also crying it is hardly.
HS-7 Spesification
material: body: product from domestic Camellia Material (clear eco-paint finish)
Finger-hook part: Brass (nonmagnetic gilding finish)
Outside dimension: 18 (W) 50 (L) 18 (H) Except for an attachment part and a finger hook portion
Prudence: 8.1g (attachment screw is not include, containing lead wires included)
Accessories: Normalized form 4 color shell lead attached, 3 sorts of product gilding attachment screw attachment made from brass
Price: 9,200yen (main part price classified by tax)