The import sales start of an Emission Lab company vacuum tube

It contracts with the vacuum tube maker Emission Lab company in Germany at our company lately, and is as an agency.

Import sale of the vacuum tube of an Emission Lab company will be carried out.

The Emission Lab company can set to Europe, such as amplifier of our company, and a Teflon socket.

It is contracting also as an agency and business will be done in the form of mutual cooperation.

An Emission Lab company designs a vacuum tube in Germany, and produces manufacture of the vacuum tube in Czechoslovakia.

Now, it is mainly 45, 2A3, 300B, and 5U4G. 247B and AD1 grade are manufactured and sold.

those manufactures take in the manufacture technique of a German vintage tube accuracy it is high and is made with high quality.

Compared with a vintage tube, it is quite large, each electrode is made more greatly, and the outer diameter of a vacuum tube is to a limit about sound quality.

It is the feature to make it improve.

I have imported what was miniaturized recently so that it might be easier to use 2A3 and 45 vacuum tubes and might become in it.

(Although miniaturized, 2A3 and the outer diameter of 45 still serve as size about the same as the usual 300B.)

Although the amplifier which uses 45 and 2A3 is under sale at our company, it is due to adopt also as them as a standard.

Please refer to the following maker homepage for details.

Emission Lab company vacuum tube price list

EML300BXLS (WE300B and the standard) 100,000yen (matched pair)

EML2A3M (2A3, and said standard and mesh plate) 88,000yen (matched pair)

EML45 (RCA45 and the standard) 88,000yen (matched pair)

EMLAD1M (the almost same - mesh plate heater current 1.5A type as Telefunken AD1)

100,000yen (matched pair)

EML5U4GM (RCA5U4G, and said standard and mesh plate) 45,000yen (single)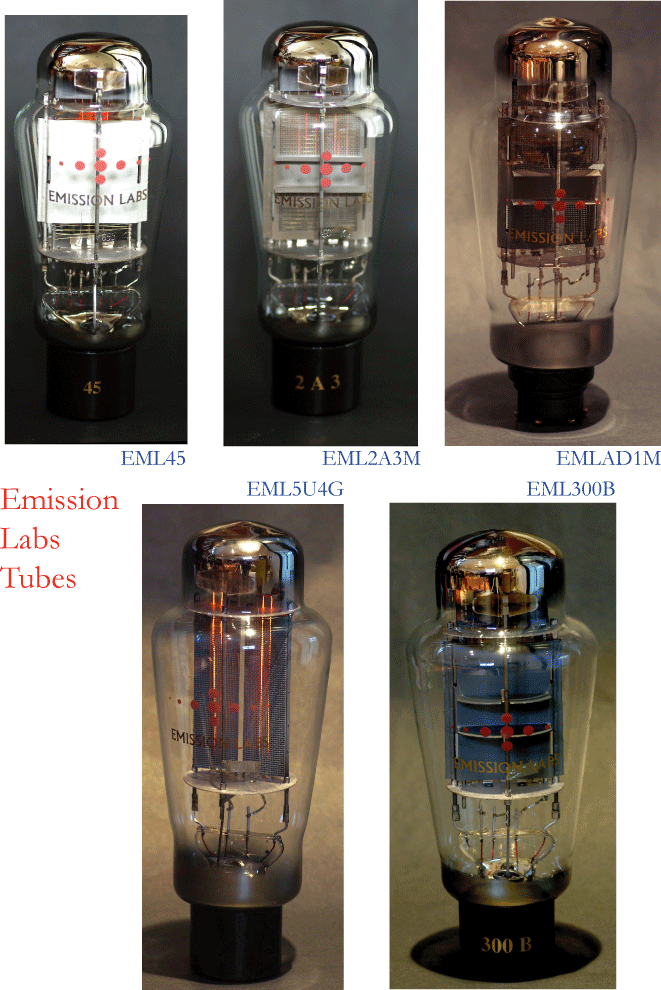 ---
その他 : 弊社の加工技術を駆使した木材、樹脂等の精密加工も承っています。(詳細はお問い合わせください)
Besides: the processing technology of our company even the precise processing of the lumber, resin etc. that utilized it are informed. (Inquire the details)
---

山本音響工芸 ホームページトップ
Yamamoto Sound Craft Homepage TOP
(日本語/English)


山本音響工芸株式会社 675-1323兵庫県小野市榊町726 TEL0794-62-5655 FAX0794-63-6405
Yamamoto Sound Craft Corp. 726 Sakaki-tyo Ono-city Hyogo 675-1323 Japan / Tel 81-794-62-5655 Fax 81-794-63-6405
お問い合わせ(Inquiry): shige-y@mh1.117.ne.jp
担当(Charge):山本(Yamamoto)
---
Copyright ? 2002-2009 Yamamoto Sound Craft All Rights Reserved.
---