Since the board material part of DKS-KIT series is corresponded to more speakers, it is specification change in part.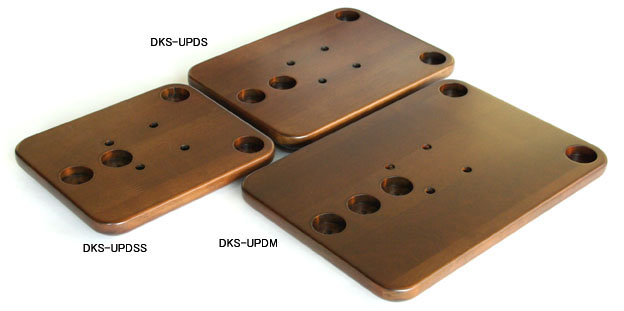 Although it was now on sale in DKS and the speaker stand of DKS-KIT at our company, I had received the inquiry whether the board of the size corresponding to much more speakers could be manufactured from the visitor.

So, at our company, the base attachment hole was increased by the addition to DKS-UPDM on sale, DKS-UPDS, and three kinds of boards of DKS-UPDSS, and I changed so that it could respond to a speaker with small depth.

Please refer to the following dimensional drawing for details.

A price etc. is the same.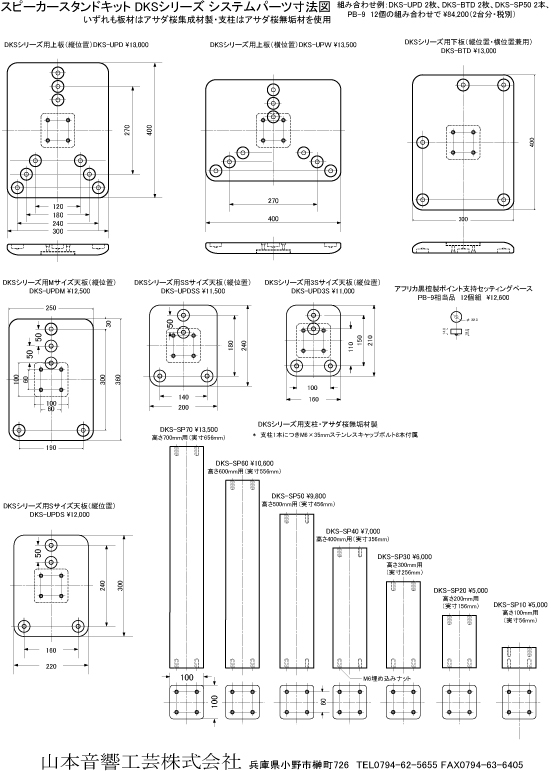 ---
その他 : 弊社の加工技術を駆使した木材、樹脂等の精密加工も承っています。(詳細はお問い合わせください)
Besides: the processing technology of our company even the precise processing of the lumber, resin etc. that utilized it are informed. (Inquire the details)
---
山本音響工芸 ホームページトップ
Yamamoto Sound Craft Homepage TOP
(日本語/English)


山本音響工芸株式会社 675-1323兵庫県小野市榊町726 TEL0794-62-5655 FAX0794-63-6405
Yamamoto Sound Craft Corp. 726 Sakaki-tyo Ono-city Hyogo 675-1323 Japan / Tel 81-794-62-5655 Fax 81-794-63-6405
お問い合わせ(Inquiry): shige-y@mh1.117.ne.jp
担当(Charge):山本(Yamamoto)
---
Copyright ? 2002-2009 Yamamoto Sound Craft All Rights Reserved.
---