The Arm lifter unit for analog players. AL-2 18,000yen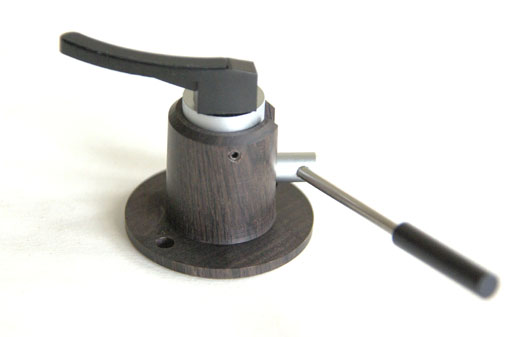 AL-2 is the arm lifter unit which adopted a large-sized oil pressure cylinder 16mm in diameter. The African blackwood was adopted as the sleeve of an attachment part. An arm can be smoothly taken up and down by operating a larger lever. When raising a lifter, it goes up for a short time, When taking down, it gets down slowly by oil pressure. The arm to which an arm lifter is not attached, Please use for the player with which operation of the lifter became poor. A crack will be attached to a record if an arm is taken up and down manually, A phonograph needle may be damaged. Such a trouble can be prevented if an arm lifter is used. Since this AL-2 lifter unit can carry out every another alone, Combining with almost all players is possible. Refer to the following figure for directions for use.

Attention : The sleeve part of this product is made of wood. Please be careful not to tighten a cylinder fixed screw too much.

The directions for arm lifter unit AL-2

(1) Put a record on the turntable of a record player first, It is in the state which attached the cartridge of use on an arm, The needle point brings to the position of the maximum inner circumference of a record board. It installs so that the range in which the lifter operates as shown in a lower figure may cover arecordboard top.

Height adjustment, A height adjustable screw adjusts using an attached hexagon wrench so that it may become an upper 5-10mm position of a record board, after the needle point has raised the lift lever. Since not much big power is not applied to a lifter section, it is not necessary to bolt a height adjustable screw strongly. The sleeve of a main part should keep in mind that it may damage if it fastens not much strongly, since it is a product made from an ebony.

(2) If the position and height of a lifter unit are decided, fix to the position using an attached tapping screw or bolt. You may use double-stick tape for fixation. however Please keep in mind that there is a case where it becomes impossible to remove finely when removing.


Height adjustment of this machine is set in the position of the lower part of an arm pipe, It can adjust from a player board to 39mm - 53mm. In asking, please confirm the height of the arm of a player in use.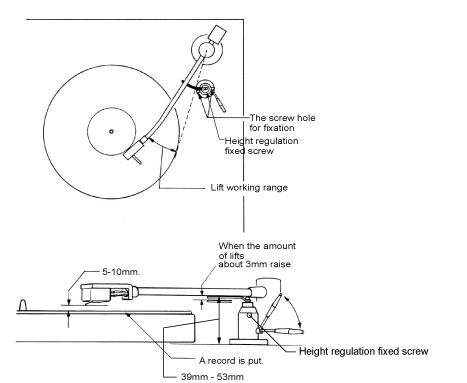 AL-2 outside dimension : Oil pressure cylinder : 16mm in diameter, Diameter of a bottom of a stand section :38mm, The length of a lever : 58mm, Whole height when raising a lever : 60mm, Arm rest part length : 33mm, Amount of lifts : Height of about 3mm, Lift part : The bottom to 38-53mm adjustment is possible.
---
その他 : 弊社の加工技術を駆使した木材、樹脂等の精密加工も承っています。(詳細はお問い合わせください)
Besides: the processing technology of our company even the precise processing of the lumber, resin etc. that utilized it are informed. (Inquire the details)
---
山本音響工芸 ホームページトップ
Yamamoto Sound Craft Homepage TOP
(日本語/English)


山本音響工芸株式会社 675-1323兵庫県小野市榊町726 TEL0794-62-5655 FAX0794-63-6405
Yamamoto Sound Craft Corp. 726 Sakaki-tyo Ono-city Hyogo 675-1323 Japan / Tel 81-794-62-5655 Fax 81-794-63-6405
お問い合わせ(Inquiry): shige-y@mh1.117.ne.jp
担当(Charge):山本(Yamamoto)
---
Copyright ? 2002-2009 Yamamoto Sound Craft All Rights Reserved.
---